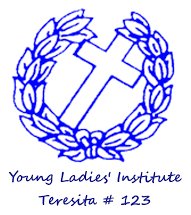 Young Ladies' Institute-Teresita # 123
Vision: Come on and Catch the Spirit of YLI in sharing their talents with our church, parish and community.
Who We Are: YLI is an organization of Catholic Women (14 and up) dedicated to the Christian virtues of faith, hope and charity and the principles of unity, sisterly love and protection. Our Institute (Teresita 123) has approximately 70 members.
What We Do: YLI's members participates in charitable projects, scholarships, contribute to the education of the priesthood and support our Parish life. This organization is a great way to use your time talent and treasures to enrich your spiritual, social and personal life.
What You Can Expect: We offer you friendship, support, leadership training and the opportunity to make a difference to those in need. We have many activities including bunco parties and casino bus trips as well as actively participating in parish activities.
Meetings are on the 4th TUESDAY OF EACH MONTH at 7:00pm in the Church of The Good Shepherd Ministry Building.
Find out more about YLI at www.ylionline.net and on Facebook www.facebook.com/YLITeresita123. Contact Rosanne Ortland 925-698-0825 or come to a meeting and see what YLI is all about.