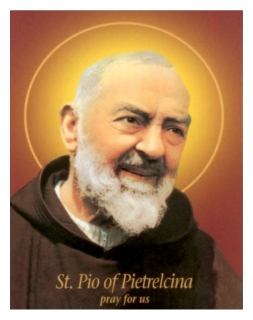 Saint Padre Pio Prayer Group
Who Are We: We are a prayer group of like-minded individuals seeking God's love and mercy through spiritual, physical and psychological healing. We strive to be spiritual children of St. Pio by:
• Doing works of charity
• Obeying and supporting the Catholic Church
• Practicing the teachings of Jesus Christ and the devotion to the Blessed Virgin Mary with St. Pio as our model.
We recognize the two-fold dimension of the cross — The vertical which signifies our relationship with God and the horizontal which refers to fellowship with others especially the marginalized.
Formation and Goal
In May 2016, under the spiritual guidance of our then pastor, Fr. Carl Arcosa, the prayer group was formed to promote the devotion to St. Padre Pio.
Activities
• St. Padre Pio novena at the chapel every Thursday at 6:30 pm.
• St. Padre Pio devotional mass and veneration of St. Pio's relic every 4th Saturday of the month at the Good Shepherd Church
• Home visits and St Padre Pio novena as per request
• Hosting brunch for clients and volunteers of St. Vincent de Paul distribution food programs every 2nd Saturday of the month
• Delve into fund raising activity with the Church of the Good Shepherd or the prayer group as the beneficiary
Membership: We welcome brothers and sisters regardless of race and ethnicity. Prospective members are encouraged to learn the life, teachings and examples of St. Pio.
Please contact Mila Benitez at 925- 726-7526.