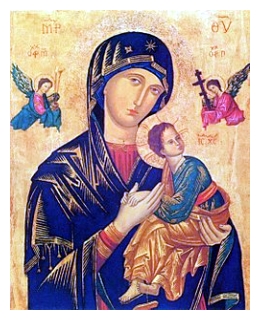 Our Mother of Perpetual Help
Our mission is to spread the novena and our devotion to Our Mother of Perpetual Help. To continue
to honor her because she is always ready to help us, console us, and comfort us whenever we ask her
help. To spread the importance of praying the rosary daily with our family. Every Tuesday, one family
can bring the icon picture of Our Mother of Perpetual Help to their home. They can pray the novena and
rosary daily in front of the icon with their family and friends in their home. Every Tuesday, the family
has to bring the icon back to the chapel so that another family can bring the icon to their home.
We have a sign up sheet for that. There is a petition sheet you can write your petitions and can drop in the petitions box. We pray for these petitions weekly during the novena.
We have 20-25 active members and meet in the chapel every Tuesday at 7 pm and the 1st Saturday of the month at 8 am for mass in the church.
Please join us! Contact Alma Espiritiu; phone number 925-597-2515.