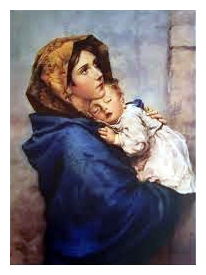 Gabriel Project
"Rejoice! Fear not!" were God's words of encouragement delivered by Gabriel.
Churches and pro-life service groups have sought ways to expand their embrace of women in crisis pregnancies. Now comes a way they can do so together. A way to combine the special power of prayer with a commitment to service….The Gabriel Project.
The Gabriel Project is an effort of our mother Church to help deliver this message and to help any pregnant women.
When a call for help is received, the Helpline volunteer contacts the coordinator at the nearest participating church to where the caller lives. The coordinator contacts the caller and makes an initial assessment of her situation. A church volunteer ("Angel") is assigned the responsibility for ongoing contact with the mother throughout her pregnancy and somewhat beyond. An initial meeting is arranged to further assess her needs.
The parish community responds with love by providing spiritual, emotional, and material support to help meet those needs.
Through prayer and action, the church community assures the mother that she has their love and the love of Christ. If a mother has been abandoned by family or her child's father, the church community can lovingly help her overcome her sense of loss and loneliness.
We are trying to assist the Lord and His Angel Gabriel in delivering this message. God's message on behalf of the unborn and their mothers needs to be broadcast loud and clear. We need to raise our voices and lift the signs up high for all to see, to validate and dignify the lives of the forgotten unborn, and to educate our community.
The Gabriel Project Helpline: 1-800-910-0191
To volunteer in this ministry contact David Zarri at 925-686-9277 or davidlzarri@earthlink.net.