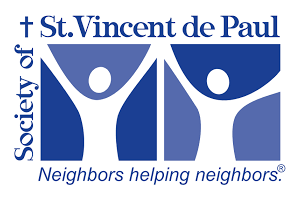 St. Vincent De Paul Society
Inspired by Gospel values, the Society of St. Vincent de Paul (SVdP) a Catholic lay organization, leads women and men to join together to grow spiritually by offering person-to-person service to those who are needy and suffering, in the tradition of its founder, Blessed Frederic Ozanam, and patron, St. Vincent de Paul.
We believe:
• In the dignity of the human person,
• In the preferential option for the poor,
• In the virtues of humility and simplicity,
• In charity and justice within and outside the Society,
• In personal and communal prayer
• In friendship, community, and in the solidarity with each other and with those in need.
The Good Shepherd SVdP Conference is comprised of approximately 20 parishioners, and many volunteers from within the community. Our monthly meetings are held the second Tuesday of the month from 6:30PM – 8:00PM in the Ministry Building. We also serve those in need within the community at our food pantry on Saturdays and Mondays.
For the history of the Society of St. Vincent de Paul, and more information go to http://www.svdp-cc.org. If you would like to become a member (Vincentian), or volunteer—call the assistance line at 925-432-6404—Ext. 25 and leave a message, or simply drop by the pantry near the church office during our distribution hours on Saturdays (11:00AM -1:00PM), or on Mondays (2:00PM – 3:00PM)