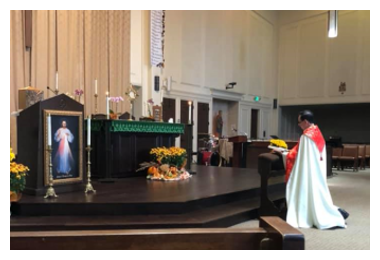 Adoration
Are you tired because of the burdens of your day, because of the frustrations of work?
Are you heavy laden with guilt from past sins?
Are you trying to find hope and meaning in life?  Don't lose heart! Abandon yourself to Jesus in the "Sacrament of Love". He will refresh you!The more time you spend with Jesus, the more you will come away feeling renewed and healed.
                                                                          • Spiritual Renewal
                                                                          • Spiritual healing
                                                                          • Answers to prayers
                                                                          • Physical healings
                                                                          • And many other wonderful outcomes happen whenever the Lord Jesus
                                                                            is adored in the Blessed Sacrament.
These are the "gifts" that point to the Almighty Giver and testify to His Real Presence in the Blessed Sacrament… Jesus waits for you there in the Sacrament of Love.
Jesus asked St. Faustina, and through her to us, to celebrate His Divine Mercy at the hour of His death.
Christ said, "At 3 o'clock, implore my mercy, immerse yourself in my passion. And I will refuse nothing to the soul that makes a request of me. Adore the Most Blessed Sacrament, My Heart, which is full of mercy."
This is an hour of grace for the whole world. Can you give Jesus an hour of your time in adoration? Prayer of Divine Mercy at 3:00 pm. Adoration is on Fridays after the 7:30AM mass until 9 am or 24 Hour Adoration in the Chapel (door code required~call parish office). Additional days/hours may be scheduled by Parish Ministry groups and 1st Friday of the month from 8:00AM to 6:30PM.
Contact: Bill or Ann Abitz at 925-432-3995 for more information.